FIMS is a world leader in machining and machine solutions
Fims Firearms was established in 2016 by our current president and owner, Michael Facchini and is an affiliate to Fims Manufacturing. We have over 60 years experience in the manufacturing industry which includes but not limited to Aerospace, Department of Defense and machine 90% of our rifle components in our 43,000 square foot facility. Fims Firearms was developed as we saw a need for a customized approach to building a rifle in the gun industry. We specialize in custom AR-15's and Bullpups and offer custom accessories and cerakote. Our goal with each customer is to provide a one on one experience and build the rifle of their dreams.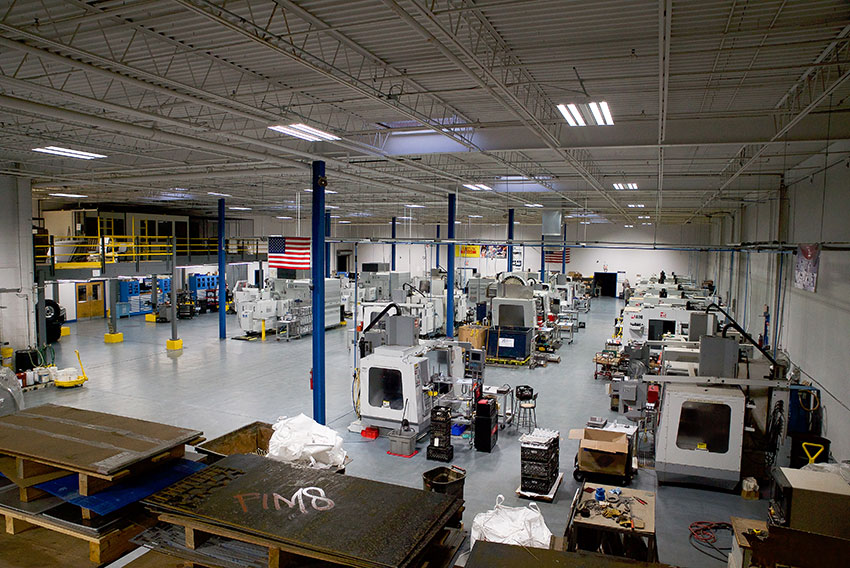 Our Skills
Investment in the future of a company and an industry is the only way to continue growth. FIMS has been able to stay one step ahead of the competition — both technologically and with a minimum of turn-around time — in order to get the jobs and remain profitable. Through well thought out equipment upgrade and investment as well as a sharp focus on the highest level of customer service, FIMS continues to thrive and grow as a third generation machine shop.
Milling
2x haas umc-750 ss 5 axis milling machines with 19 pallet midaco pallet changer
5x haas-vf-3 20 h.p. vertical machining centers note: 4 of the above have full 4th axis machining
2x haas-vf-4 20 h.p. vertical machining center
7x haas-ec400 40 h.p. horizontal machining centers with dual tombstones
2x haas-ec400 40 h.p. horizontal machining centers with six tombstone pallet pools
1x haas-vf-6 50 taper vertical machining center
2x haas-vf-2 20 h.p. vertical machining centers
Turning
1x ikegai tu-26 turning center
1x dainichi f-25 turning center
2x haas-sl10 turning centers with 4 ft bar feed
1x haas-gt-10 turning center with 3 ft bar feed
1x haas-st-20-ssy turning center with 4 ft bar feed
edm: 4x makino edm duo43
water jet: 1x omax 2652 abrasive jet machining center 2ft x 4ft table
Conventional
4x bridgeport manual mills
1x manual bed mills
1x spartan automatic production bandsaw up to 16" dia
3x precision elb grinders
5x tapping centers
1x do all vertical band saw
1x wf wells saw 10" max dia
5x drill presses
2x shapers
2x hydraulic broaching presses
1x splining center
4x automated deburring and polishing machines
2x heat treating units
2x sandblasting cabinets
1x paint booth
Welding
1x miller tig welding unit
2x miller mig welding units