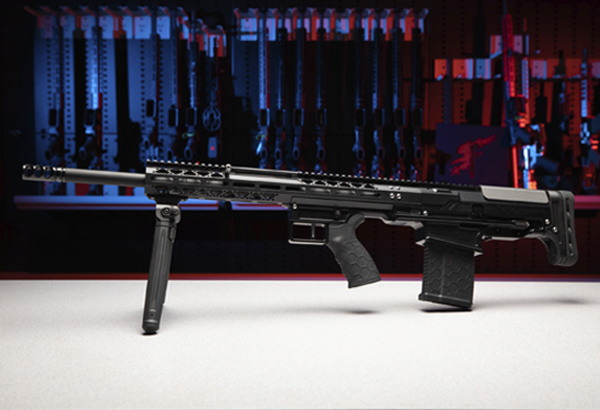 This is the launch model of the FIMS SPBP in 308 Winchester.
It features a Criterion 20 inch barrel and a Timney Trigger. With an overall length of 32.5" and overall weight of 7.5 lbs, this perfectly balanced, lightweight, precision rifle has unearthly handling characteristics. The action is a spring assisted straight pull which can be cycled with either hand, and without removing a hand from the rifle if your offhand is used.
While conventional bolt action rifles need 6 fine motor functions to cycle the action, the FIMS SPBP only needs 1 or 2, making this rifle far faster and easier to cycle than a conventional bolt action. While most bullpup style rifles suffer from a muted trigger feel, the FIMS SPBP has an extraordinarily crisp, adjustable trigger that is free of complex linkages.
The FIMS SPBP trigger pulls straight back, much like a 1911, with interchangeable trigger pads. The barrel is cryogenically fit to the upper receiver guaranteeing the best possible barrel-to-receiver fitment, crucial to accuracy. Featuring a full length picatinny rail and MLok slotted handguard, you can attach whatever accessory you want without interfering with the barrel. Cheek pads quickly are replaceable with units of different heights to tailor the rifle to you and your optic. The interchangeable stock unit features a recoil reducing Limb Saver butt pad to ensure the user feels as little kick as possible. The action also features spring detent pins to allow for fast and easy disassembly.
Contact us today to ask about ordering your own.